Approx. 50 m² | 2-4 People| from € 121 ,- p.p.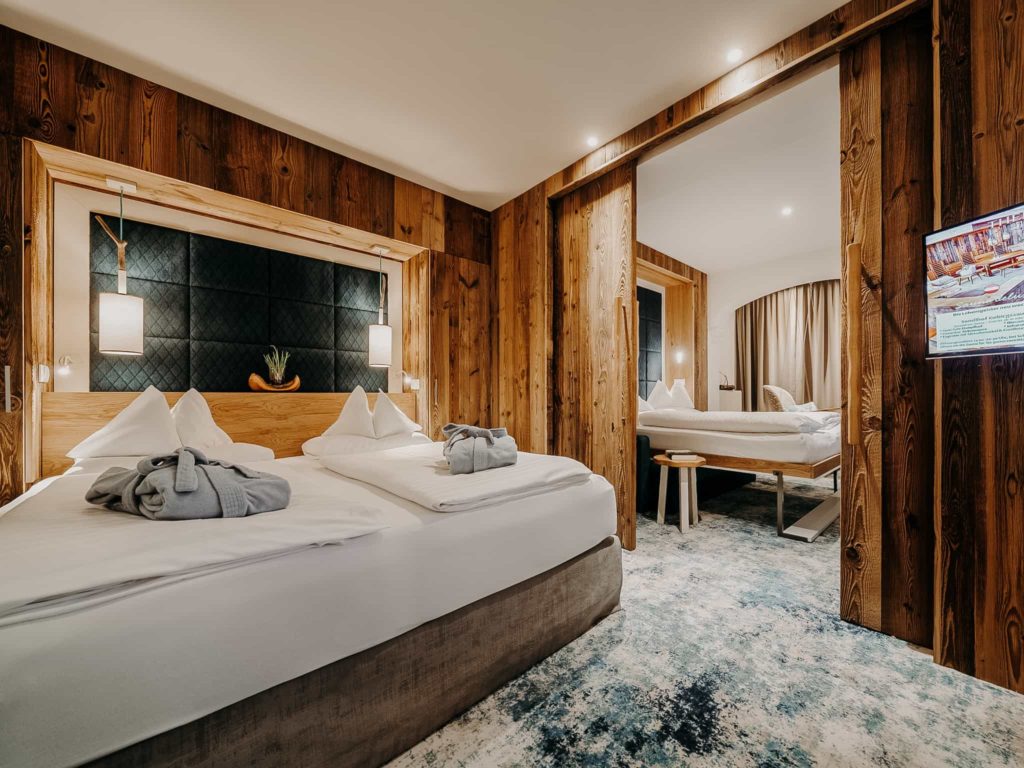 Enjoy moments of happiness together.
Our studio 'Stubnerkogel' is perfect for 4 people and offers you lots of space for sociable evenings in the room or on the balcony. Enjoy the view from the room in top location.
South- west balcony with a view of the Gasteiner mountain range
Bedroom & living room (or second bedroom) separated by a sliding door
Hanging chair, sofa & coffee table
2 Flatscreen TVs
Free WIFI
Telephone & seating area
Allergy friendly carpet floor
Safe
2 Bathrooms with shower and toilet
Bathrobes
Spa- bag with sauna and bath towel (You can get spa slippers at the front desk)
Mini Bar (not included in the room price)
Kettle and a coffee machine
For single occupation, there's an extra € 135,- charge. For one adult and one child, there's the single occupation charge for the adult and a fixed children's rate for the child.
THIS COMES WITH THE ROOM: INCLUDED STUDIO STUBNERKOGEL
Other Hotel Rooms and Apartments
Warning
: Undefined array key "children" in
/var/www/vhosts/lukes-wohnzimmer.com/httpdocs/wp-content/themes/lukes/jet-elements/jet-posts/global/loop-item.php
on line
20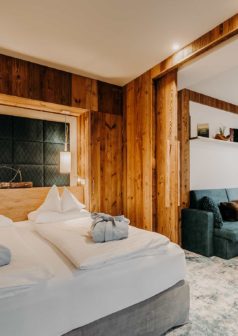 Studio Stubnerkogel
Approx. 50m²
2-4 People
from € 121,- P.P.
Shared joy is a double joy- Enough space and a cosy hotel room combined with flexible elements, offer the perfect surrounding for a sociable night with your closest friends and family. Or just simply more space to enjoy together as a couple.
Warning
: Undefined array key "children" in
/var/www/vhosts/lukes-wohnzimmer.com/httpdocs/wp-content/themes/lukes/jet-elements/jet-posts/global/loop-item.php
on line
20
Warning
: Undefined array key "children" in
/var/www/vhosts/lukes-wohnzimmer.com/httpdocs/wp-content/themes/lukes/jet-elements/jet-posts/global/loop-item.php
on line
20
Warning
: Undefined array key "children" in
/var/www/vhosts/lukes-wohnzimmer.com/httpdocs/wp-content/themes/lukes/jet-elements/jet-posts/global/loop-item.php
on line
20
Warning
: Undefined array key "children" in
/var/www/vhosts/lukes-wohnzimmer.com/httpdocs/wp-content/themes/lukes/jet-elements/jet-posts/global/loop-item.php
on line
20
Warning
: Undefined array key "children" in
/var/www/vhosts/lukes-wohnzimmer.com/httpdocs/wp-content/themes/lukes/jet-elements/jet-posts/global/loop-item.php
on line
20
Warning
: Undefined array key "children" in
/var/www/vhosts/lukes-wohnzimmer.com/httpdocs/wp-content/themes/lukes/jet-elements/jet-posts/global/loop-item.php
on line
20
Warning
: Undefined array key "children" in
/var/www/vhosts/lukes-wohnzimmer.com/httpdocs/wp-content/themes/lukes/jet-elements/jet-posts/global/loop-item.php
on line
20