APPROX. 86 m² | 2-4 People| FROM € 202 ,-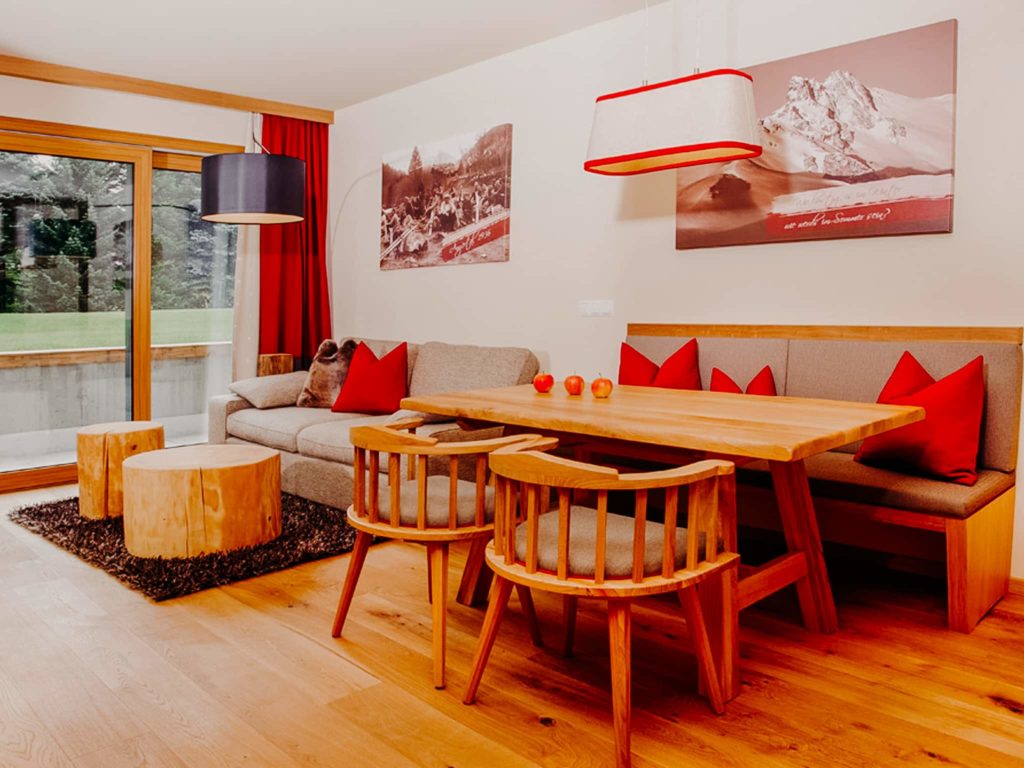 If you stay in our holiday apartment 'Angertal' you are only one step away from our garden.  Perfect for a family with children who love to start the day in nature. There's a perfect space for everyone here.
Large terrace with garden access for a stunning south east view of the Gasteiner mountain range
Glass front with adjustable panorama windows for view of the greenery
Very spacious living-, kitchen and dining area with comfortable seating arrangement in modern alpine design
Wooden floor & allergy friendly carpet floor
2 Flatscreen TVs
Free WIFI
Telephone
Fully equipped kitchen: Stove, microwave, fridge, dishwasher, kettle, coffee machine, cutlery, dishes, glasses
2 separate bedrooms, 1 with a bunkbed
Walk in closet with safe 
2 Bathrooms with shower
Separate toilet
Spa- bag with sauna and bath towel (You can get spa slippers at the front desk)
Bathrobes
For single occupation we charge the daily rate for 2 People.
THIS COMES WITH THE ROOM: INCLUDED APARTMENT ANGERTAL
Other Apartments and Hotel rooms
Warning
: Undefined array key "children" in
/var/www/vhosts/lukes-wohnzimmer.com/httpdocs/wp-content/themes/lukes/jet-elements/jet-posts/global/loop-item.php
on line
20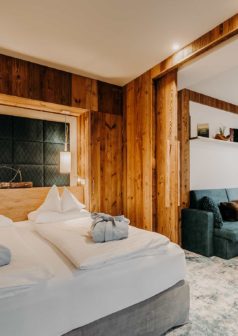 Studio Stubnerkogel
Approx. 50m²
2-4 People
from € 121,- P.P.
Shared joy is a double joy- Enough space and a cosy hotel room combined with flexible elements, offer the perfect surrounding for a sociable night with your closest friends and family. Or just simply more space to enjoy together as a couple.
Warning
: Undefined array key "children" in
/var/www/vhosts/lukes-wohnzimmer.com/httpdocs/wp-content/themes/lukes/jet-elements/jet-posts/global/loop-item.php
on line
20
Warning
: Undefined array key "children" in
/var/www/vhosts/lukes-wohnzimmer.com/httpdocs/wp-content/themes/lukes/jet-elements/jet-posts/global/loop-item.php
on line
20
Warning
: Undefined array key "children" in
/var/www/vhosts/lukes-wohnzimmer.com/httpdocs/wp-content/themes/lukes/jet-elements/jet-posts/global/loop-item.php
on line
20
Warning
: Undefined array key "children" in
/var/www/vhosts/lukes-wohnzimmer.com/httpdocs/wp-content/themes/lukes/jet-elements/jet-posts/global/loop-item.php
on line
20
Warning
: Undefined array key "children" in
/var/www/vhosts/lukes-wohnzimmer.com/httpdocs/wp-content/themes/lukes/jet-elements/jet-posts/global/loop-item.php
on line
20